World's smallest digital camera:
People came up with the different modern cameras but here is the world's smallest digital camera which can take high resolution images.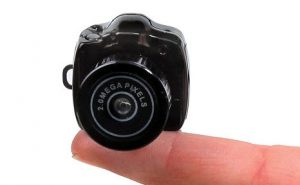 This smallest digital camera can take pictures of resolution 1600 x 1200 in jpeg format and  it is 2.0 megapixels.
This camera is so small that it can be placed onto the tip of finger and this is world's first smallest digital camera which is available commercially.
American firm Hammacher Schlemmer's General Manager told: "Although The World's Smallest Camera is only slightly larger than a marble, it takes still images and records video just like much larger cameras,"
"It is a remarkable piece of kit, and is expected to prove very popular with the public,"
"It comes with a wrist lanyard that keeps it close to hand and enables ease of portability."
You can follow us on  our Facebook fanpage to keep yourself updated about latest Technology, Entertainment News. Subscribe our daily News letter Here. Keep Spread Junkaria among your Friends Circle and become Junkaria top friends.