Surprise for people as Virtual staff  greet them at the Paris airport:
A French airport has introduced virtual staff that greets the passengers when they are boarding.
Paris' Orly airport started the Pilot project and with this project the staff has introduces this virtual staff which has caused a huge amount of amusement and surprise for Passenger.
This virtual image speaks "Bonjour! I invite you to go to your boarding gate. Paris Airports wishes you a bon voyage." The destination of the passengers meanwhile flashes at the front body of the video image.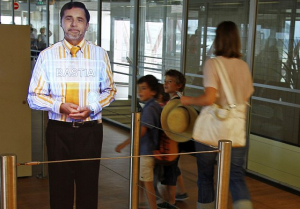 Airport's director of operations said: "Children like it, it's fun. They're attracted to it and try to play with it,"
"There's finally very few who find it useless or just a gizmo."
You can follow us on  our Facebook fanpage to keep yourself updated about latest Technology, Entertainment News. Subscribe our daily News letter Here. Keep Spread Junkaria among your Friends Circle and become Junkaria top friends.