CSSLoad: Free CSS Loading Animation Generator For AJAX & JQuery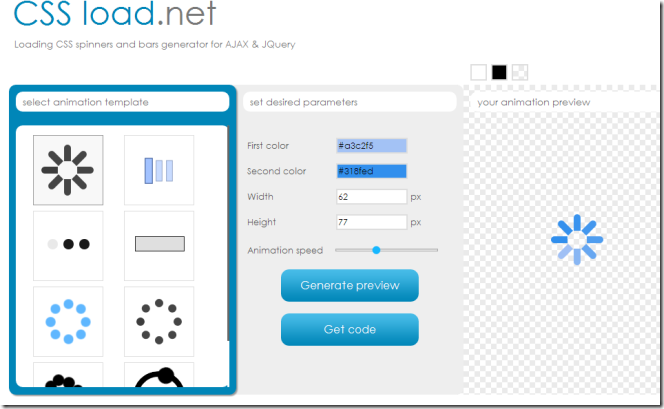 Today we discuss a very special website "CSSLoad" for web designers & web developers. CSSload is a free web-based application that can generate loading animation like spinners and bars with pure CSS. 
CSSLoad is yet another web application that auto produces CSS value. The value produced is intended for your website load movement. It allows you to choose website load animated graphics from eight layouts and personalize its color and speed.
To get started, choose an movement style from the small scrollable section on the right. The movement design involves bar and dvd designs. Some layouts assistance two while others assistance single colours. The design you choose will put on the right under Your Animation Review.
Browser support
If the image below is animated, then your browser supports CSS animation:
The format is not very popular as it's not supported by all browsers. The browsers listed below support it:
Firefox 5+
Google Chrome
Opera 12+
Internet Explorer 10+
Safari 4+
Safari for IPhone
Android 2+
RIM OS6 web browser
Other browsers with -webkit- prefix
You can follow us on  our Facebook fanpage to keep yourself updated about latest Technology, Entertainment News. Subscribe our daily News letter Here. Keep Spread Junkaria among your Friends Circle and become Junkaria top friends.