Bentley Mulsanne with two iPads back-seat enjoyment
Bentley Mulsanne with iPads:
World's most deluxe car Bentley Mulsanne has now come up with the two iPads for the amusement of back-seat passengers.
Bentley Mulsanne actual basic price is £205,000 and it adds up £85,000 for the actual price when these iPads are installed.
This iPad has full access to internet and passengers can enjoy playing games or watching TV shows and movies.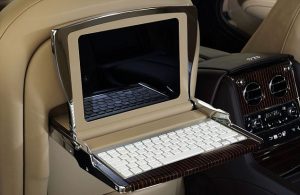 Alasdair Stewart who is the Member of the Board for Sales and Marketing of Bentley Mulsanne said: "Many customers use their time in the Mulsanne to keep on top of their business commitments or simply take a few moments to relax. This fully functioning concept highlights the Mulsanne's potential to help busy executives to communicate effectively and quickly whilst travelling,"
"As you would expect from Bentley, all these features work in harmony with the handcrafted cabin and can be displayed or hidden at the user's discretion."
You can follow us on  our Facebook fanpage to keep yourself updated about latest Technology, Entertainment News. Subscribe our daily News letter Here. Keep Spread Junkaria among your Friends Circle and become Junkaria top friends.